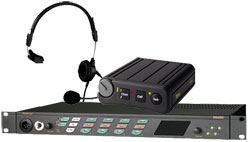 "When yelling won't work"
Sure, StageSpot is your best source for stage lighting, custom gobos, lighting gels, gaff tape and other theatre supplies... but did you know we stock theatrical communications equipment, too?
StageSpot offers professional-quality full-duplex communication systems typically found in theatres - for communication between stage managers and crew - as well as in churches, concert halls, television studios, production trucks and broadcast stations. These systems consist of beltpacks, headsets, base stations and cable. When it comes to communication, only the highest quality will do. That is why we offer Clear-Com and Telex products, leaders in the industry for quality professional equipment and the preferred choice for clear, reliable and scalable communication solutions.
We carry the full Clearcom and Telex intercom lines, RTS® Digital Matrix, RTS® Two-Wire, RadioCom™, Audiocom®, Telex®, Intercom Headsets and Telex Legacy™. Whether you need to build a large system or a small system for two, we have everything you'll need to complete your communication and stage lighting projects. Need help figuring out what will work best for you? Can't find the theatrical lighting, other theater supplies or communication products you're looking for? Give us a call and we'll be more than happy to assist you with your next communication project.