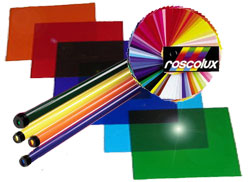 "Black & White is for photos.
Real life calls for color!"
They're known as color gels, color filters, lighting gels or simply, gels. But whatever you call them, color gels are thin sheets of polycarbonate or polyester that project color when placed in front of lighting fixtures or windows. Color gels are used to color stage lighting as well as to provide color correction. Gels are easy to cut and easy to work with... and they're found in virtually every area of stage and screen production - including theatre, event production, photography, videography and cinematography.
StageSpot, LLC carries all brands of color gels. It doesn't matter whether you're looking for color gels from Rosco, Roscolux, Rosco E-Colour, Rosco Cinegel or LEE Color, because you're sure to find whatever you're looking for right here - at exceptional prices!
Whether it comes in sheets, rolls or tubes, we've got the color you need. Not sure which color you need? We've got you covered there, too. Order one of our swatch books and receive a sample of every color made by the manufacturer(s) you select.
Need to extend the life of your color gels? Order Super Heat Shield or ThermaShield. Both types are available in a variety of sizes to suit your theatrical lighting specifications. In addition to lighting gels, StageSpot, LLC carries a variety of other theatrical supplies and accessories, including: gel frames, safety gel frames, dichroic glass frames, color extenders and more.