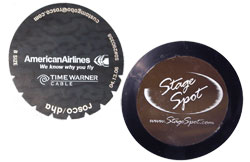 Custom Gobo Lighting.
"Funny name... Serious style!"
They go by a number of names, and whether you call it a gobo, lighting template, pattern or even "one of those light thingies," we've got them.
Gobo lights create dramatic effects on walls, sidewalks - even sides of buildings! Choose your preferred look from our stock of hundreds of standard gobo images, or create your own custom gobo lighting with logos... signs... even monograms or photos for your own special custom wedding gobo.
Need something for a one-time event or in a smaller budget? We now carry plastic gobos as popular low cost alternative to their glass counterparts. Now you can get the same full color photo quality image for a 10th of the cost. Plastic gobos are good for up to 200 hours, making these the perfect addition to your wedding, graduation parties and special occasions.
Go ahead, tell us what you really, really want. We use only the highest-quality materials in our custom gobo lights, so you know they're made to last. We can create custom steel gobos or we can dazzle your viewers by composing you glass gobos that generate stunning high-definition images. Also, we are happy to provide custom Rosco plastic gobos, as a cost-effective alternative to glass gobos, fitting your LED fixtures. Want to find out if your LED fixture is approved for plastic gobos, check our LED Fixture Approved LIst!
You won't even have to wait for your custom gobos with next-day turnaround service!
Quick Pricing Reference:
Steel - $69 original - $30 each copy
Cool Ink - $39 original - $39 each copy
Cool Ink HD - $59 original - $59 each copy
Glass Black and White - $160 original - $83 each copy
Glass 1 Color - $160 original - $83 each copy
Glass 2 Color - $315 original - $230 each copy
Glass Hi Def - $525 original - $360 each copy

And don't forget those all-important gobo accessories to complete your gobo's dramatic effect. Because after all, nifty as its design may be, a gobo is simply no good all by itself. We supply gobo lights and gobo rotators that can create endless effects, ranging from underwater to crackling fires. So, make a stunning impression... and then show it off with a gobo!