Custom Gobo Lighting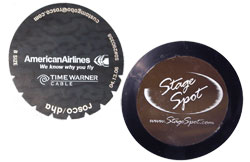 "Funny name... Looks great!"
They go by a number of names, and whether you call it a gobo, lighting template, pattern or even "one of those light thingies," we've got them.
Gobo lights create dramatic effects on walls, sidewalks - even sides of buildings! - by using patterns to project light in specific designs ranging from the wildly abstract to amazingly true to life. Choose your preferred look from our stock of hundreds of standard gobo images, or create your own custom gobo lighting with logos... signs... even monograms for wedding celebrations.
We use only the highest-quality materials in our custom gobos, so you know they're made to last. We can create custom gobos from cost-efficient stainless steel or we can dazzle your viewers by composing your gobo on dichroic glass, to generate stunning high-definition images.
We even offer next-day turnaround service on gobos! Browse through our extensive stock of standard gobos and designs and choose the image (or images) you want, to create special lighting effects (like texture and shading), to enhance any lighting concept or design. We carry a wide variety of gobo lighting templates, from Apollo gobos to Rosco gobos, so you can find exactly what you're looking for.
And don't forget those all-important gobo accessories to complete your gobo's dramatic effect. Because after all, nifty as its design may be, a gobo is simply no good all by itself. We supply gobo lights and gobo rotators that can create endless effects, ranging from underwater to crackling fires. We have a spectacular array of gobo accessories to take designers to new heights of creativity in their projects. So, make a stunning impression... and then show it off with a gobo!